If you're in West L.A. Saturday night, May 23rd, please come see my painting at Gallery 825.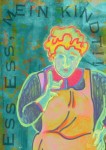 The L.A. Art Association is presenting VS a juried group exhibition that pairs artists together to create collaborative works of art. "Ess Ess Mein Kindt" was digitally created using the iPad app Procreate by Lenka Talska and me and printed on metal. It's a spoof on the saying "if it's not something, it's a mother!" This is our take on Jewish mothers…. or any mother, really, insisting that their child eat! In our collaboration, I made the background using several layers and Lenka added the drawing. This show is amazing.
Recently I visited with the Founder and partners of Mobile Art Academy in Palo Alto. The purpose of my visit was to explore how I might expand their successful Northern California iPad art education business into Orange County – potentially expanding to L.A. and San Diego. I'm happy to report that I will be helping to set up and teach iPad art classes starting in June.  I am also attending their yearly Mobile Digital Art & Creativity Summit where they showcase mobile art and offer a variety of digital painting and photo art workshops. Talk about "doing what you love!" I will be sending out details soon. However, it's a good idea to contact me now if you'd like to participate in or host a class.
A couple of weeks ago I travelled to San Diego to attend the International Mobil(e) Film Festival. We screened 50 short films all shot on an iPhone or other mobile device. Some were less than a minute, others were 5 minutes. They ranged from infomercial to professionally scripted and designed films with paid actors. Q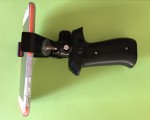 uite enlightening to see what's being done with the iPhone. At the workshop, the filmmakers talked about their gear, their process and what inspired them to use their iPhones to make movies. I came away with a handle that clamps onto my iPhone and also screws onto a tripod. Nice gift!
Making Waves my student art show is coming up June 26th!  I am so proud of all my students. Four of them never had used an iPad before this class, and now three have purchased their own and are becoming art wizards! These 70 and 80-year olds have several collages and iPad art prints to "abandon" – there will be lots of free art. Printable invite here: You're Invited – Art Show CP June 26. We've added a lot of new photos to the shared albums. Check them out here: iPad Art Classes and Collage Art Classes
The Harris Gallery of La Verne University, my alma mater, is presenting an art exhibition "Roots and Shoots" featuring eight university alumni artists. My "City Runways" textured acrylic paintings will be featured. The show runs from September 8th (reception) through October 29th.
I'm still having fun shooting photos and making iPad art in my Pipes, Pumps and Motors series. You can see a portion of "Cool on the Roof" in the header of this post.
In anticipation of the airport show, I have started a new On the Move series where I take transport-related photos of wheels, airport ceilings and floors, train stations and depots. Then I collage the images and add color layers. Most of the work is done on my iPad using Procreate. But I also manipulate the photos in other apps like Fragment and Infinity Image. My students love doing this too. While I was on the plane from my local airport to San Francisco, I was able to give a short lesson in Procreate to the woman sitting next to me. I talked her through "On the Move OC" showing her how to manipulate the photos I'd taken in the terminal.
If you'd like to see how some of these are done visit my Storehouse page. I have 9 stories about various paintings up there. You can search by my name Susie Stockholm. If you are asked to sign-up, just do it. It's a great app and won Apples' app of the year. Here's how I made the two "On the Move" collages: How I Made "On the Move" on my iPad
Hope you all are getting inspired to make your own art or add another "Stockholm" to your collection. Check out the Gallery to see what's still available. I always look forward to hearing about what's going on in your life.
Much love to you all,
Susie