Happy New Year!
I hope you all have been enjoying yourselves after the rush, joy and angst of the holidays.
This is a quick update for those of you who don't read my Facebook page.
Teaching art, especially iPad art to seniors, is challenging and exciting. Three of my students have already purchased or been gifted their own iPads. Their enthusiasm is boundless and their creations are just fantastic.
I've been challenging myself lately in the digital iPad art game. You can see a few of my pieces on Storehouse. If you do a search by my name, you should be able to see all 8 stories about how I created these. Here are links to my newest ones:
The Followers – iPad Digital Collage
Flashes & Floaters – Waiting for my Eyes to Dilate
iPad Miracles – Two 80-year olds at Play
I've been making digital collages for people based on personal photos and images that are important to them. See how I made "New Orleans" – a collage/photo montage of favorite things. These are very fun and gratifying. Please call or email me (click here for Contact page) if you'd like me to do these for you. They are printable on metal, acrylic, paper, canvas and just about anything, really.
Some of my big and small acrylic paintings found new homes over Christmas. Very exciting to see them displayed in good light in beautiful contemporary homes.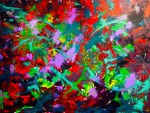 I'm always thrilled to hear from you.
Love, Susie