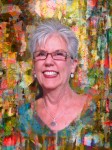 iPad Digital Artist Abstract & Experimental Painter
949-436-9204   susie@iPadArtSoCal.com
<artuitive.net>– my art, videos and blogs
<iPadArtSoCal.com>– class info, student work
_____________________________________________________________________
Susie's Bio, Awards, Events, Galleries, Media

My current passion is creating art on my iPad with the many fabulous new art apps available. There's no mess, no clean-up and no need to store paintings waiting for their next home! My abstract digital collages are full of of the same energy, texture and excitement as my traditional work. Instead of using washi papers, acrylic ink, watercolor and found objects, I use a variety of iPad art apps. Whimsy and play are still my top goals. I also teach iPad Art and Photo Collage. Hope you'll join us.
As a young child I was the fortunate student of Gerald Brommer, a world-class elementary school teacher who has become a well-loved international artist. I was delighted when we studied the ocean and raised my hand vigorously to draw the fish. Mine had bright colors, lots of interesting  lines and reasonable fish-like shapes. The vibrant paintings and organic designs that fill my work today are informed by our years together. See my contribution to a wonderful exhibition Water: A Necessary Conversation. This show jump-started a new series Water Signs, in process.
Not content to stay still, I've explored life in Santa Barbara, San Francisco, Austin, Atlanta and Hilton Head. I've created watercolor and acrylic paintings, large textural abstracts and experimental art, had fund-raisers, shows, rented studios and taught collage and iPad Art classes. Now I'm permanently back home in SoCal and am never leaving!
Awards, Events & Galleries

South Carolina

2011 International Juried Show Hilton Head Art League Gallery – Passion Flower – Acrylic on canvas, sold.
2012 Beaufort Art Association Juried Spring Show – Memorial Award for City Rhythms
2012 National HealthCare & Alzheimer's Association One-Woman Show to raise funds for Alzheimer's Assn.
California
2013 Laguna Woods Art Association Oil-Acrylic Exhibition –   Third Place for Surprise
2013 Laguna Woods City Council Chambers – City on the River
2013 Susi-Q Gallery, Laguna Beach, CA – group exhibit – City of Angels
2014 Light, Space & Time, "All Women Competition" – Special Recognition City Runways
2014 The Studio Gallery, Irvine CA, Solo show –Signs of the City
2014 Orange County Fine Arts (Juried membership) Showcase Gallery – "Driven to Abstraction" – 2nd Place Award for City Litter
Represented by Gallery 825, West Hollywood, CA
2014 Southbay Contemporary – "FRESH" – Electro Vocab, combo digital and traditional painting printed on metal
2014 Irvine Fine Arts Center – "All Media Exhibition" – City on the River, City on the River #2
2015 OCCCA – "CHAOS" – Yoga Maiden, abstract acrylic; Dementia – 3 digital paintings
2015 Gallery 825 – "VS" – Digital collaboration with Lenka Talska using the iPad app Procreate to make Ess Ess Mein Kindt  a portrait of a Jewish mother, printed on aluminum
2015  "Mobile Digital and Creative Arts Summit Exhibition", juried show, Love Wins – digital painting
2016  "JWA's Community Focus Space Program Exhibition" – Airport SOLO SHOW – featuring 11 traditional and digital artworks showing my works as an experimental artist transitioning into iPad Art and iPhoneography. Jan 14 – Feb 16th, 2016
2016 OCCCA – "TXtMe" – Water Signs, Laguna Woods, photo collage on aluminum
Media
"Art for Alzheimer's" Sunsations Magazine, 2012
"Artist Gives Back" Bluffton Today, 2012
"Through the Purple Door" Island Packet News, 2012
"Art by Susie Stockholm" – video (click the Video tab on <artuitive.net/blog>)  2013
"Can I Afford Original Art?" – video (click the Video tab on <artuitive.net/blog>)  2013
"Conversations with Susie" – interviewed Ellen Rose, award-winning artist and Louise Doslu      iPad portrait artist <talkwithsusie.com>  2013
"Floral Textures" An Experiment in Movement – book, 2011
Channel 6 – Morning Show ThisDay with Ken Goldenberg, Laguna Woods 2014
San Clemente Times, June 18, 2015 – Making Waves, Student Art Show
<sanclementetimes.com/cottons-point-foundation-to-host-art-show/>
Art on the Fly – Orange County Register, http://www.ocregister.com/articles/stockholm-701749-art-different.html