It's official! I am the proud recipient of The Kenneth A. Picerne Foundation's Artist Outreach Grant for 2015. http://picernefoundation.org/Programs.aspx
The purpose of the grant is to support artists in doing something new and different, to have an adventure in the service of others. Victor Nelson, the Executive Director is a class act. He is such a great representative of the Foundation: Helpful, good listener, problem-solver and cheer leader. Thank you, Victor. The Foundation has given me a generous budget for supplies and even for a couple of used iPads to use in the Digital Collage class. But that won't be enough. So if any of you has an iPad 3 or newer that you'd like to donate, the Foundation will write you a letter on their letterhead that you can use to get a tax deduction. Click here to contact me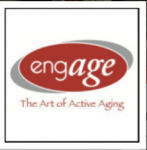 The non-profit I have chosen to work with is Engaged Aging. http://engagedaging.org – their website hasn't been updated in a while, but you'll get the idea. They run many arts, sports and education programs in senior apartments in Orange and Los Angeles County. Their VP and site managers are doing everything possible to help me succeed with their residents.
My project is: Teaching COLLAGE (papers, paint, brushes) and DIGITAL COLLAGE (on an iPad or Android tablet)  to seniors in apartment communities in Tustin and San Clemente.  Each class with be 2 hours long, so that's 4 hours of instruction at each location, weekly. At the end of each quarter we will have an art show or museum visit. Interwoven in each quarter's class curriculum is an Art Abandonment component. This is where we go out and give away our precious creations, wrapped in clear plastic with a note saying "if you found this, it's yours to keep or give away." The Art Abandonment movement has a very active Facebook page where I'm getting lots of ideas for where to leave art:  on benches, hanging from trees or any place where they might be found. https://www.facebook.com/groups/ArtAbandonment/
Luckily I found a teaching buddy, Ruth Allen, who lives in my building. She is 88 years young and has more energy than 5 kangaroos! Ruth is a former high school art teacher who has been itching for something exciting to do recently. I'm ecstatic that she's on board to assist for all of it. She's even willing to learn how to use an iPad. She's going to be a huge help – in fact at our Artist Talk and Demo the other day, Ruth was able to get everyone to participate in creating two holiday cards with her. In the spirit of the grant, we are secretly planning little challenges for each other.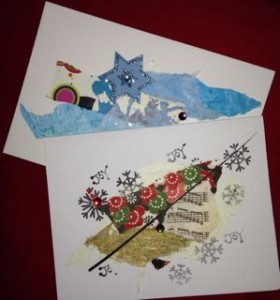 The Foundation has allowed me to start teaching a month early so students can make holiday cards for gifts and for staying in touch. The digital collage students are taking pictures of their locale – mostly beaches and piers – of course.  We then turn those into watercolors or other interesting paintings using apps on the iPad or other tablet.  The challenge with the digital class is to find an art app that can do everything I want to teach and that works on both Android and iOS. So far, I've only found Sketchbook by AutoDesk. It works on MAC, Windows, iOS and Android. Not sure how well it works on Android, but we are bound to find out!  Once we are happy with images, we can print those out onto greeting cards.
Here's an example of the San Clemente Pier photo and how it looks after being manipulated in Waterlogged (an iPad app).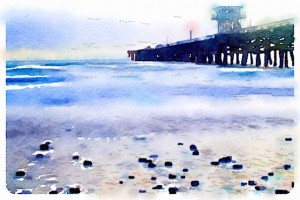 I will keep you all updated as we go along. My plan is to document our year together with photos and videos. Perhaps we'll even create our own book.
Hope you all have a wonderful Thanksgiving. My family awaits me, and as always, I'm renewed with their love and hugs.
Susie