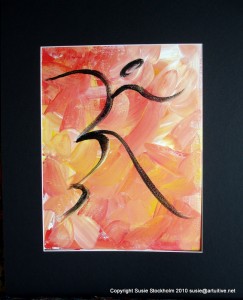 This figure has been drawn, painted, scratched and generally imprinted in my brain for many weeks, now. My friend Diana Prevot, a wonderful landscape artist, advised me to draw a figure so many times that I could do it in my sleep. She said that pretty soon it would become organic and take on a life of its own.
Finally I have a design for the minimalist painting for my architect friend in Minneapolis. His hi-rise condo is very structured and angular with concrete floors, visible duct work and lots of corners on the gorgeous furniture which he crafted himself. I wanted to give him two things: An oval rug for the living room, and a painting for his bedroom that had movement and curves.  He'll get the painting.
What you see here is a small piece, but matted and framed is 16 x 20.  I am going to do several more of these with different backgrounds and different angles and posture, maybe superimpose some over the other to indicate movement.  This might become a series, who knows?  Enjoy!
Addendum:  I was playing around, trying learn the incredibly difficult Adobe PhotoShop Elements and thought these three versions looked pretty neat.  What do you think?