Hello everyone. I am living my dream job as a Southern California contemporary and abstract artist! There are so many amazing opportunities to connect with collectors, artists, educators, galleries and art advocates. I've been making some great connections in Los Angeles where contemporary and abstract art is loved and appreciated. Been busy – lots happening behind the scenes, which I will share shortly, promise 🙂 In case you haven't been following me on Facebook, here's what's come to fruition so far:
Have 3 collages in the ORANGE COUNTY FINE ARTS Showcase Gallery – Inspired by things that annoy me. love the conversations they created at the reception Saturday night, very fun! I know, "do more of these."
Won Special Recognition for "City Runways" in the ALL WOMEN 2014 ART EXHIBITION, Light,Space & Time Gallery
"City Litter" is chosen for the ALTADENA LIBRARY EXHIBIT  "Edges and Curves" for the month of May 2014, through The Haggus Society.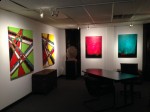 "Signs of the City" exhibit ends Tuesday. Mucho thanks to Antoinette Sullivan at The Studio Gallery. It was a great run and was extended twice. Wonderful show. 
I'm now posting regularly on Facebook, which gives you instant information, so you don't have to wait for this newsletter. Check out my Art by Susie Stockholm page.
Hope you all have a wonderful April and May.  Blessings and love to you and yours, Susie